Every sworn fashionista knows the value of mixing and matching outfits and accessories. That's why they don't buy a ton of new clothes regularly just to look chic and stylish. Instead, they upgrade their old things by pairing them with new ones.
For example, if you have a black winter sweatshirt that you barely use, you can wear a nice blouse over it. Alternatively, you can wear it under your favourite pair of denim overalls.

You'd be surprised how even the smallest changes can transform a boring outfit.
Want to learn more juicy fashion tips? Read on!
Don't be afraid to use a monochromatic scheme

Does finding complementing colours freak you out?
Try to use one colour for your main outfit first. Then, you can start including other pieces of garment and accessories that come in a similar shade or tone. Here are some popular monochromatic shades:
ochre, pumpkin, carrot, rust, and dijon

sage, forest green, jade, laurel, and emerald

hibiscus, mulberry, fandango, lollipop and mauve



Rock the neutral colours
Every woman knows how important it is to have a blouse, jeans, dress and other pieces of garment in neutral colours like brown, beige, black, grey, olive green, and gold.
You can wear these items with almost anything.
Also, you can wear them to any kind of event.
For example, you can wear that gold halter dress from last year's holiday party with a flaming red leather blazer, a pair of white dórsay shoes and a classy leather clutch.

It's time to put your accessories to good use
Accessories can instantly add a wow factor to any look.
There are so many types of accessories that you can choose from nowadays. Here are some of the accessories that every woman should have in her collection:
Leather belt in various colours and thickness

– You can use these for your jeans, shorts and even your midi and maxi dresses.

Bags of different shapes and sizes –

Who can ever say no to a well-crafted bag? They contain all your personal necessities. Also, they perfectly reflect your personality.

Various pieces of jewellery – Your earrings, necklaces, bracelets, watches, and other types of jewellery can easily transform an ordinary-looking dress into a glamorous piece of clothing.    
Fashionable eyewear –

Aside from helping you get that super posh vibe, sunglasses also protect your eyes from the harsh rays of the sun.
If you have some smart watches for women, you can pick one and wear it with your strapless black dress. To give emphasis on your neck and collarbones, you can also try to wear a beautiful necklace.
Be as bold as you can be with patterns
Patterns never fail to make a statement. But, they can be quite tricky to mix and match. Here are our key tips that you can use, the next time you want to rock a patterned look:
Let your patterned clothing shine by keeping your accessories to a minimum.

Choose only one pattern to achieve that elegant but playful look.

Find the perfect blouse and accessories to wear with your printed trousers, you can just focus on one colour on the pattern. From there you can find a similar or contrasting shade.  
Bring out your daring side with bright coloured dresses
A vibrantly coloured garment is the number one choice of any woman who wants to stand out from the crowd.
Furthermore, these types of clothing can also make your eye and hair colour pop.
If you have a bright orange tube skirt, you can wear a beige decollete blouse or and a nice and soft white cashmere peacoat.
If you want to spruce up your old and dull looking dresses, go ahead and pair them with your bright red pumps or heels.
Less is definitely more!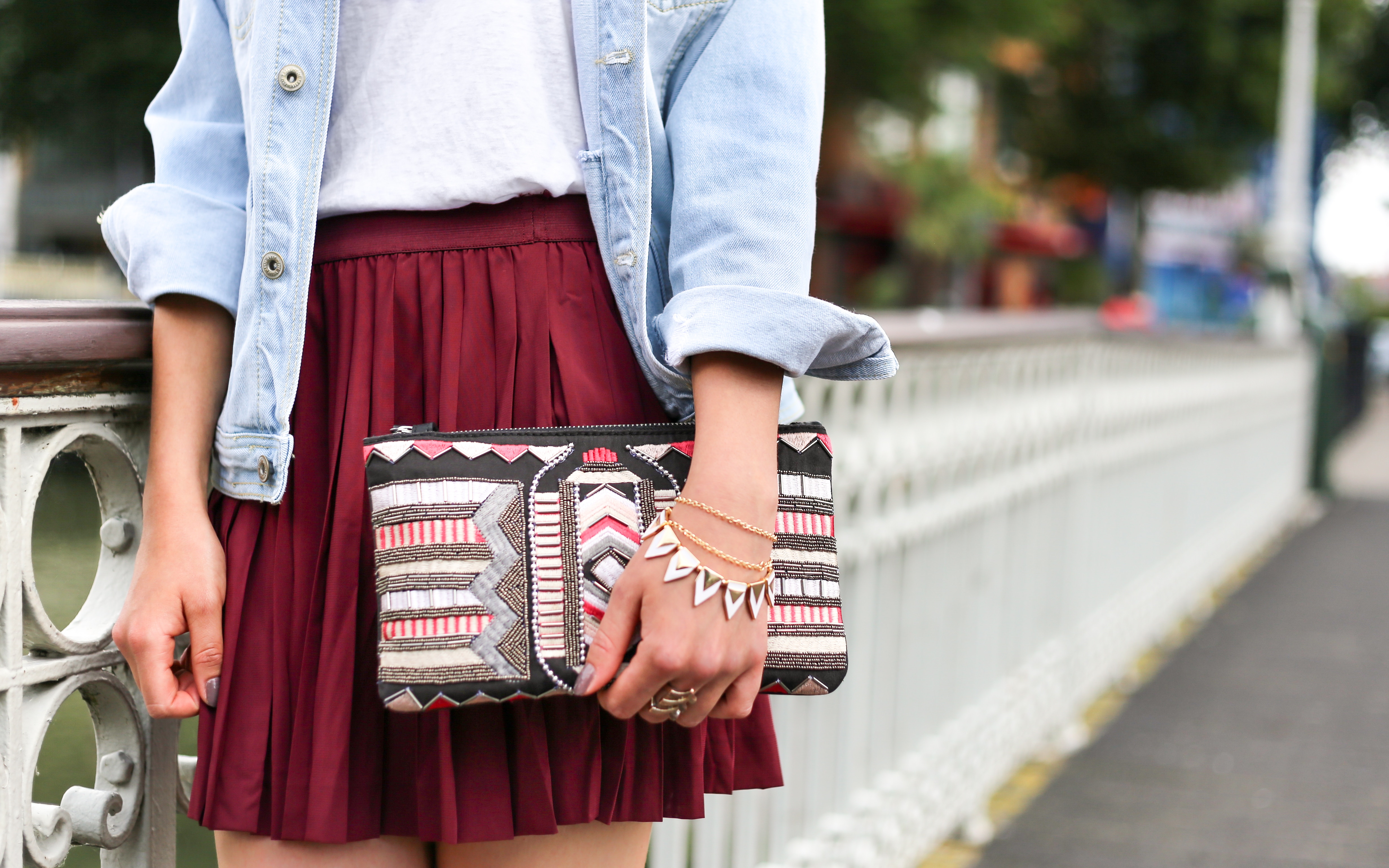 You don't need over accessorise or choose an over-the-top look.
Limit your accessories and select the best pieces to go with your gown, dress or blouse.
The same can be said for the colour scheme you use for each look. Instead of wearing five different contrasting hues, limit your palette to three colours. Instead of adding more colours, try picking a similar shade or tone to achieve that playful and youthful look.
Whether you aim to dress up for a party or look posh when you go to the office, the tips we shared above can definitely help you get more value for your old pieces of clothing and accessories.